Hibernated Ghanaian singer, Mzbel and one lady known on Facebook as Prissy Ekua Adiepena Hemans, who happens to be one of the top supporters of the opposition NDC have clashed fiercely on Facebook today.
The back and forth between the two ladies started after Prissy Ekua Adiepena Hemans shared a post Mzbel shared on her wall which reads: 'Keep Me Different Lord. I don't want to be like them' and bashed her.
READ ALSO: VIDEO: Dr UN Lands In Fresh Trouble As Family Chase Him For Allegedly Impregnating Their Daughter In SHS
Sharing the post on her wall, Prissy Ekua Adiepena Hemans dropped some heavy punches for Mzbel and accused her of being one of the key actors who caused the downfall of the NDC in the 2020 general election because of the 'papano' saga.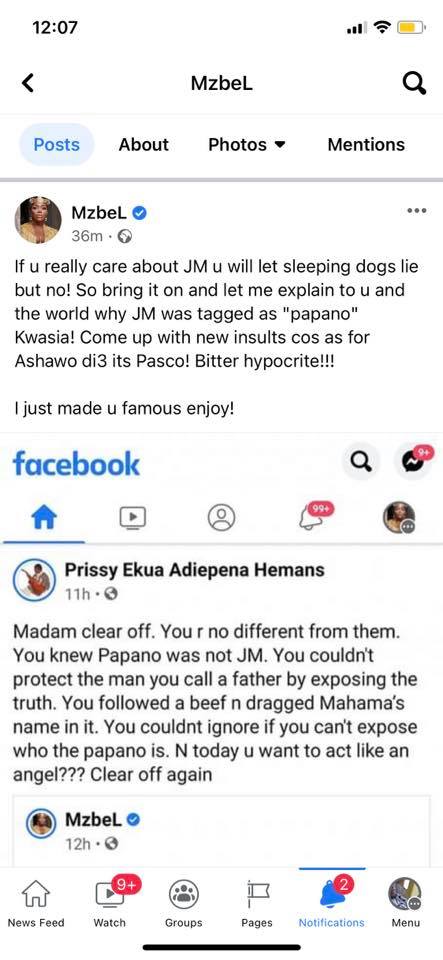 READ ALSO: Hajia Bintu's Fresh Photos Flaunting Her Mountanious B*tts In A Tight Dress Gets Massive Endorsement From Nigeria Comedian, Mr Macroni
So after Prissy Ekua Adiepena Hemans made this post, Mzbel also shared a screenshot of it on her wall and fired back angrily daring the former to bring it so she tells the whole world why JM was tagged 'papano'.
Below are screenshots of their banter on Facebook not long ago