The Ministry of Gender, Children And Social Protection has strongly condemned the photo posted by socialite Rosemond Brown, popularly known as Akuapem Poloo which had her exposing her nudity and that of her son's.
In a letter that was sighted by Zionfelix.net and fast going viral on social media, the ministry classified the act as an indecent one which violates the Children's Act 1998 (Act 560) and the Criminal and Other Offences Act (30).
The said letter was dated July 1, 2020 and was signed by the sector minister, Cynthia Mamle Morrison
READ ALSO: Comedian Too Much Spotted In Heated Argument With Lady Over Handbag At Radio Station (Watch Video)
The ministry further added that it was working with the appropriate state and related agencies to bring the matter to the best conclusion.
According to the ministry, indecent exposure of all forms was a crime and admonished the general public to desist from making such posts since it could land them in trouble.
Akuapem Poloo set the internet on fire yesterday, June 30, 2020, which happened to be her son's birthday by posting a photo of herself completely naked and her son wearing just underpants.
SEE LETTER BELOW: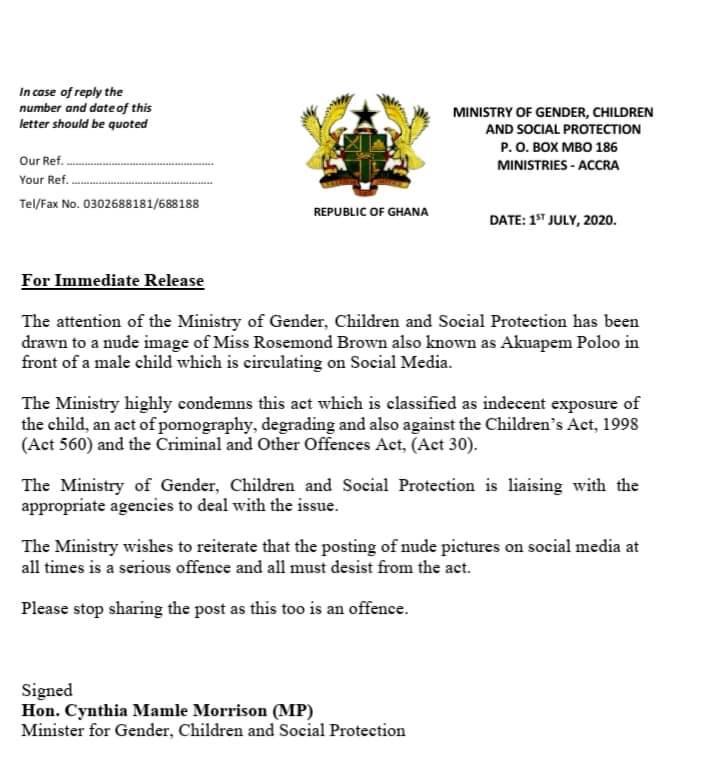 After she caused a huge debate on social media with her post, it was reported that she had been summoned to the Criminal Investigations Department of the Ghana Police Service after Child Rights International reported the post.
It was later discovered that she took down the controversial post and replaced it with a decent one.
Later that same day, Akuapem Poloo apologized in a video to all who were offended by her post and explained that she had no bad intention while putting up the photo for public viewing.
READ ALSO: Akuapem Poloo Reacts To Controversy Surrounding Nude B'day Photo & CID Invitation; Check Out Her Response (Video)
She added finally that she was at a hotel with her family members to celebrate her son's birthday.