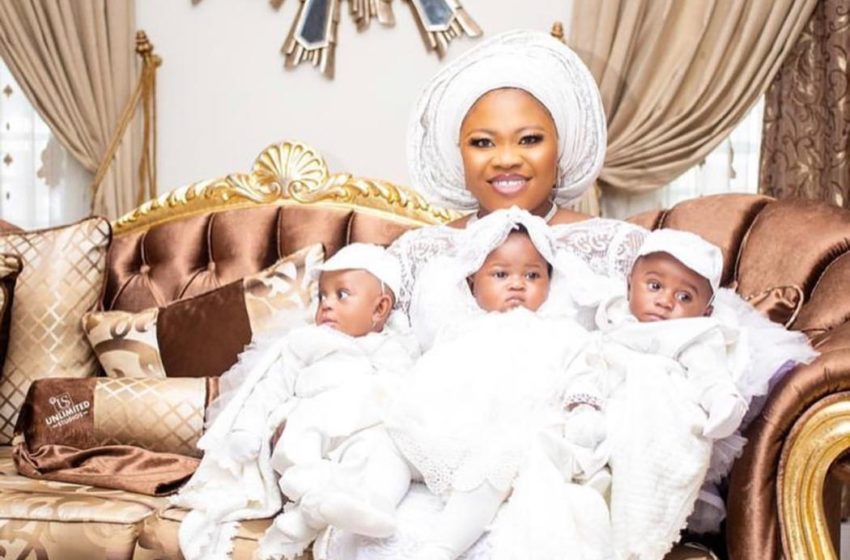 Eight Months Already! Rev. Obofour's Wife, Bofowaa Shares Nice Video To Flaunt Her Growing Adorable Triplets In Customized Attires – WATCH
Time indeed flies!
Can you believe that it has been eight months already since popular Ghanaian man of God, Rev. Obofour Antwi and his beautiful Wife, Rev. Mrs. Ciara Antwi aka Bofowaa welcomed them adorable triplets?
READ ALSO: Just In: Kafui Danku's "Freedom And Justice" Movie Banned From Showing In Ghana By Ghana Tourism Authority
Well, if you are wondering, that is actually the case because the triplets who are named Jesse, Jeremie, and Jeremiah turned eight months just about a week ago.
In her quest to celebrate their rapid growth and the joy they have brought into her life, Bofowaa has been sharing some videos of the triplets on her IG page.
READ ALSO: Fearful Joselyn Dumas Causes Panic As She Steps In A Swimming Pool For A Photoshoot Because She Can't Swim (Video)
Just some moments ago, she shared another one which had the adorable babies rocking some customized English attires.
She captioned the video seen by zionfelix.net, "Good morning to you all God thank you for this wonderful gift ❤❤❤❤❤❤❤🙏🙏🙏🙏🙏🙏🙏"
Anyway, if you missed that plush outdooring of the kids when they came into the world, blogger/vlogger Zionfelix was at the event and captured the video below. Check it out and see the display of wealth and opulence.