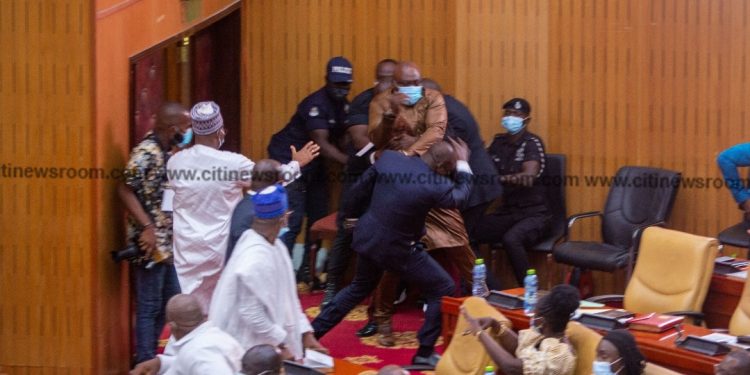 NPP's Carlos Ahenkorah Snatches Ballot Papers During Counting Of Speaker Of Parliament Votes – Watch Awkward Video
The Member of Parliament for Tema West, Carlos Ahenkorah has yet again done the unexpected in the house of parliament on Thursday morning when votes cast for who become speaker of parliament was being counted.
In videos seen online, he was seen snatching uncounted ballot papers in the Speaker of Parliament elections and attempted to bolt with it.
READ ALSO: Popular Ghanaian Photographer Calls Out Millionaire Nana Kwame Bediako 'Cheddar' On Social Media
He did this after the National Democratic Congress (NDC) Members of Parliament began celebrating what they expected to be a victory in their favor.
The former deputy Trade and Industry Minister who was not previously sighted, ran to the table during counting and snatched the ballots of Prof. Aaron Mike Oquaye and attempted to bolt with it.
READ ALSO: Drama In Parliament As NDC And NPP MPs-elect Clash Over Which Party Takes The Majority Side (Videos)
He was quickly chased and accosted at the entrance of the parliamentary chamber and physically challenged by some NDC MPs.
The Chief Whip on the NDC side and MP for Asawase, Alhaji Muntaka Mubarak also went after him and secured the ballots papers which were returned to the table.
Carlos Ahenkorah has since left the parliamentary chamber is is currently out receiving calls.
Watch the video below