Captain Planet has described Tinny's recent verbal att@ck on his colleague, Stonebwoy following his outburst on Okay FM as completely wrong.
In a thread on his Twitter page, Captain Planet said that what Stonebwoy did when he got into the studio of Hitz FM during the discussion of Tinny's alleged indebtedness to the event organizer in Worawora deserved commendation rather than attack.
READ ALSO: "What You Are Smoking Is Not Good For You" – Social Media Users 'Roast' Frank Naro Over His Claim That He Is The GOAT In The Ghanaian Music Industry
According to the 'Abodie' hitmaker, Stonebwoy was only being a good samaritan in the matter.
STONEBWOY & TINNY – THE ISSUE – MY TAKE ON THIS

1- Stonebwoy didn't do anything wrong for accepting to pay his colleague's debt even if the story was true or false. He was only trying to be nice and to stop that embarrassment immediately that was going on at that time on radio.

— CAPTAIN PLANET 4X4 (@CAPTAINPLANETGH) August 16, 2022
2 – tinny was right for cussing out the presenter and the radio station for not calling him to verify but he was wrong for attacking stonebwoy ( calling him a fool)

— CAPTAIN PLANET 4X4 (@CAPTAINPLANETGH) August 16, 2022
READ ALSO: Sarkodie, Mr. Eazi, Anne Sophie, And Many Other Stars Storm King Promise's Mega 27th Birthday Party – Watch Videos
He however laid all the blame at the doorsteps of Mercury Quaye and his team of producers of the show.
In the view of Captain Planet, Mercury Quaye failed to do his job properly when he refused to call Tinny and listen to his side of the story before allowing the discussion to go live on air.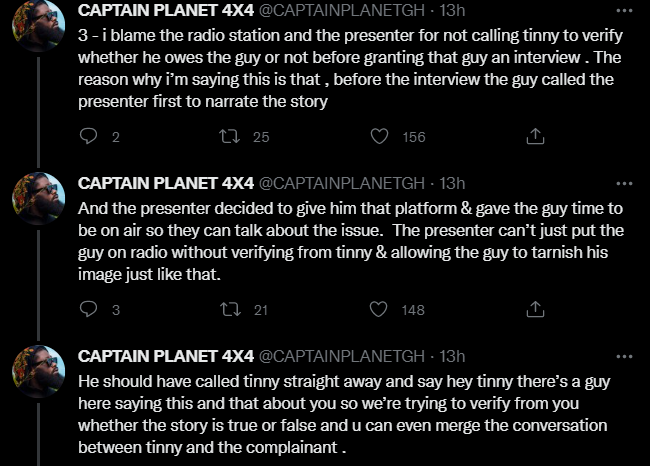 READ ALSO: McDan awards George Quaye a 2 million dollar contract (Video)
Captain Planet, in the end, asked that Mercury Quaye calls Tinny to apologize to him, while Tinny on the other hand also calls Stonebwoy to apologize to him.
The presenter and the radio station were WRONG for not calling tinny to verify first and allowed the guy to embarrass tinny live on air. They should apologize to tinny and tinny too should apologize for calling stonebwoy a fool. Stonebwoy was just a good samaritan helping his guy

— CAPTAIN PLANET 4X4 (@CAPTAINPLANETGH) August 16, 2022