Trouble In Paradise As Adebayor Unfollows Bestfriend Funny Face On Social Media; Funny Face Begs (See What He Said)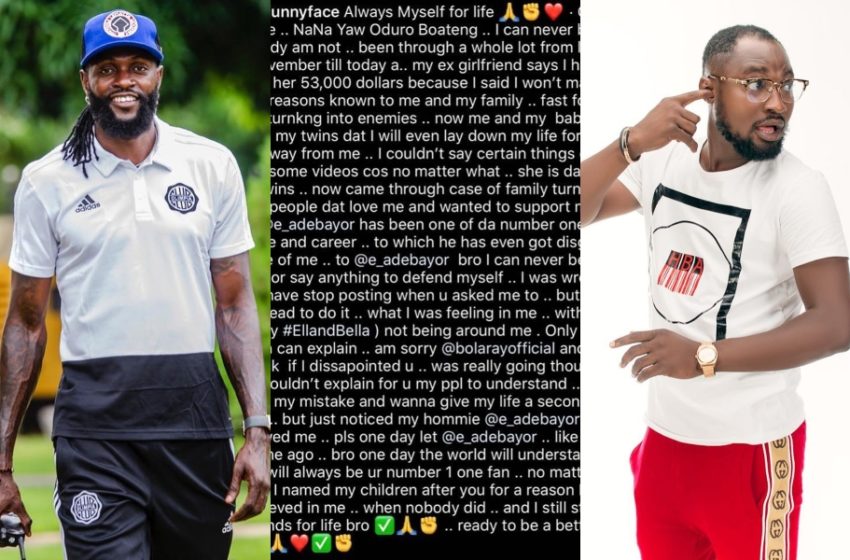 Longtime besties Emmanuel Adebayor and Funny Face are no longer cool as the former has unfollowed the latter on social media after he advised him to watch his actions.
According to a letter penned by Funny Face and sighted by Zionfelix.net, he was apologising to a number of top personlaities who have played important roles in his life including the Togolese international.
Funny Face also apologized to Bola Ray and Fadda Dickson of Despite Media Group for his disobedience and begged them to understand his actions.
READ ALSO: "If I'm Presented With Billion Choices To Select A Life Mate, I Would Choose You Again And Again" – NAM 1 Assures His Wife In A Romantic Birthday Wish
On Adebayor, Funny Face confirmed that his longtime bosom friend had unfollowed him and he went on to ask him to have a second look at his decision.
Funny Face indicated that he was at a very dark place when it appeared the whole world had ganged up against him and he was not making any head way.
He also attributed his incessant throwing of tantrums on social media to things that happened in his family including his girlfriend leaving his house with his twin daughters, Ella and Bella.
SEE POST BELOW: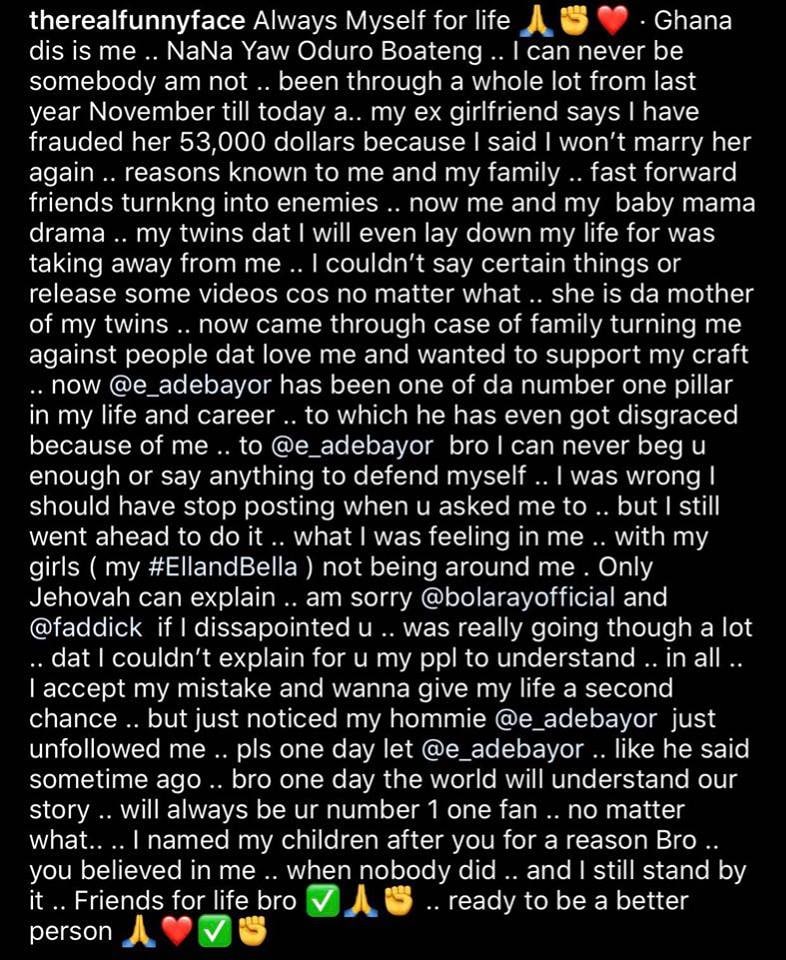 Excerpts of his apology and explanation letter read: @e_adebayor bro I can never beg u enough or say anything to defend myself ..I was wrong I should have stop posting when u asked me to .. but I still went ahead to do it .. what I was feeling in me .. with my girls ( my #EllandBella ) not being around me . Only Jehovah can explain .. am sorry."
Funny Face made headlines recently when he indicated that some of his industry colleagues had stabbed him in the back. He went on a warpath with Lil Win and Kalybos claiming they had not been good friends.
READ ALSO: My Mum Was Sick For A Year But Actors Neglected Her – Miliky MiCool's Son
Not long ago, he released his Animal Kingdom album and he received a surprise from Kontihene, Fameye and She Loves Stonebwoy who visted him and bought 200 copies of the album.