Wiyaala's Manager Clashes With Arnold Asamoah-Baidoo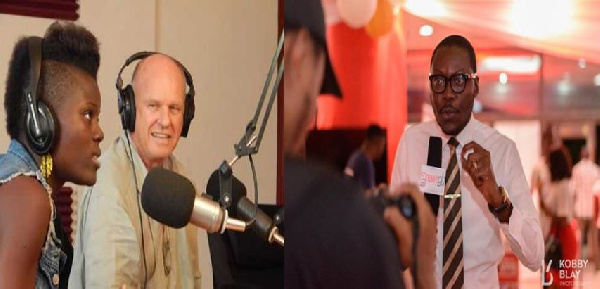 The manager of Ghanaian singer, Wiyaala, John Sherren has expressed his displeasure in a comment made by Arnold Asamoah-Baidoo.
Mr Shereen is yet to come to terms with a statement the Ghanaian entertainment writer and pundit made during a discussion on GhanaWeb TV's 'Bloggers Forum'.
"Hey guys! What's wrong with Arnold Asamoah-Baidoo? He says on Ghanaweb TV that Wiyaala does not count in the Ghana music industry? And then he writes this! I'm confused lol!" he wrote on Facebook after he shared an article published in 2018 by Arnold which touted Wiyaala as "Ghana's Best Live Performer."
His reaction follows a video posted by Wiyaala ordering Arnold and other pundits/bloggers to stop mentioning her name in their discussions.
READ ALSO: Wiyaala Is An Idiot, She Farted In A Video She Posted On Social Media – Peace FM's Kwasi Aboagye
All this started after music producer JMJ asserted that the Ghanaian female music scene is virtually dead after the inactiveness of Kaakie, MzVee, and the late Ebony Reigns.
"During the time of Kaakie, I am sure you guys saw how active she was with her A-game and changing the scene so quickly. Same was MzVee and Ebony (of blessed memory) when they hopped on too – these 3 females directed all the traffic to their corner and gave us hits back to back nonstop.
"We can hardly see any female in that same light as them. Shouts to Wiyaala who is doing well out the, she could be an exception but the rest are still not there yet for me," JMJ was reported to have said in a recent interview.
Reacting to his statement, Arnold disagreed with JMJ's shout out given to Wiyaala since her target has been on the international market.
READ ALSO: Stop Hating My Best Entertainment Panelist Tag – Arnold Asamoah-Baidoo To Critics

He claimed JMJ's statement doesn't hold water because Wendy Shay Sista Afia, Cina Soul and Adina have been doing their best.
"In Ghana, Wiyalaa is not out there and you and I know that for some years, she and her handlers decided that we are leaving this space for you people. Our target is the international market where we get to perform at festivals. So I'm confused about JMJ's shout outs to Wiyaala," he told host Abrantepa.
"You're shouting out Wiyaala who is not even paying attention to what is transpiring in our setting. Her focus is out there and you're also telling us that the scene within our space is down… So the correlation is weak," Arnold added.