Ayisha Modi, known widely on social media as She Loves Stonebwoy, has jabbed music producer Wei Ye Oteng following his comments that came after her recent claims.
Wei Ye Oteng took to FAcebook to indicate that Obrafour's Asem Beba Dabi Album is the most controversial album of their time and added that even the lyrics of the song spoke for itself.
READ ALSO: I'm Too Dangerous For Your Foolishness – Ayisha Modi On Fire, Drops Big Secrets About Obrafour
The outspoken music producer took to Facebook to speak on the matter following issues and claims raised by Ayisha Modi.
His Facebook post read: "This is the most #controversial#album ov our #time and it speaks for itself, #truely just like the chorus said #Asɛm bɛba dabi ampa @iamobrafour u are #lyrically gifted. #Otengbeats#WYO#Obrafour#drumlyneent#TheSmoke#behindthesmoke#musician#beats#studio#loyalty#god#rap#Amen"
However, after it was posted online, Ayisha Modi reacted to it and said she had no business with the music producer but was waiting on Obrafour to speak on the matter.
SEE POST AND REPLY BELOW: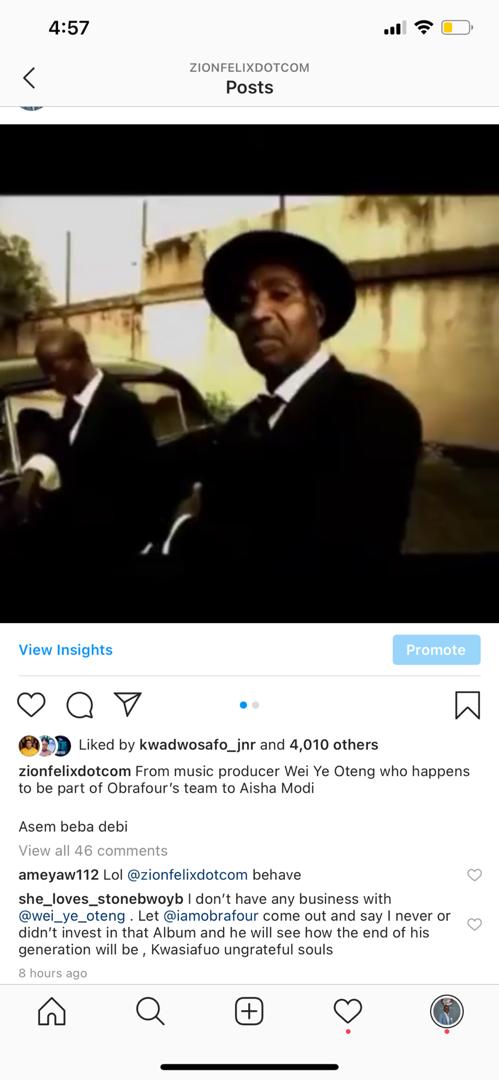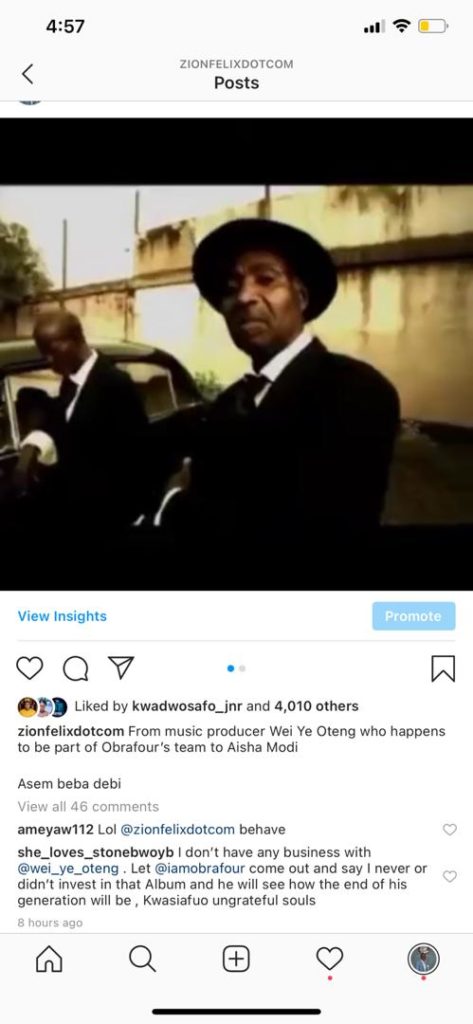 Her response read: "I don't have any business with @wei_ye_oteng . Let @iamobrafour come out and say I never or didn't invest in that Album and he will see how the end of his generation will be , Kwasiafuo ungrateful souls"
Earlier, Ayisha Modi claimed that she made a huge financial contribution to the success of Obrafour's Asem Beba Dabi album.
READ ALSO: I Introduced Over 62 People Into Wee Smoking – Kumawood Actor Reveals
However, some people including Execution Entertainment, have reacted to the claims being made by Ayisha and have threatened to take legal action.